Concerts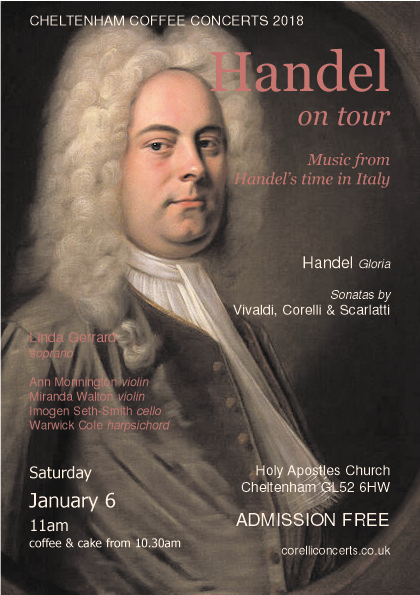 Coffee Concert
Do come along to Holy Apostles Church, Cheltenham for coffee and cakes and to hear the wonderful Handel 'Gloria'
10:30 am Coffee and Cakes
11:00 am Concert
Entrance: free

Cheltenham Coffee Concert
at Holy Apostles Church in Cheltenham
on Saturday 6 January 2018 at 11:00 am
Coffee and cakes from 10:30 am
Linda Gerrard soprano and baroque ensemble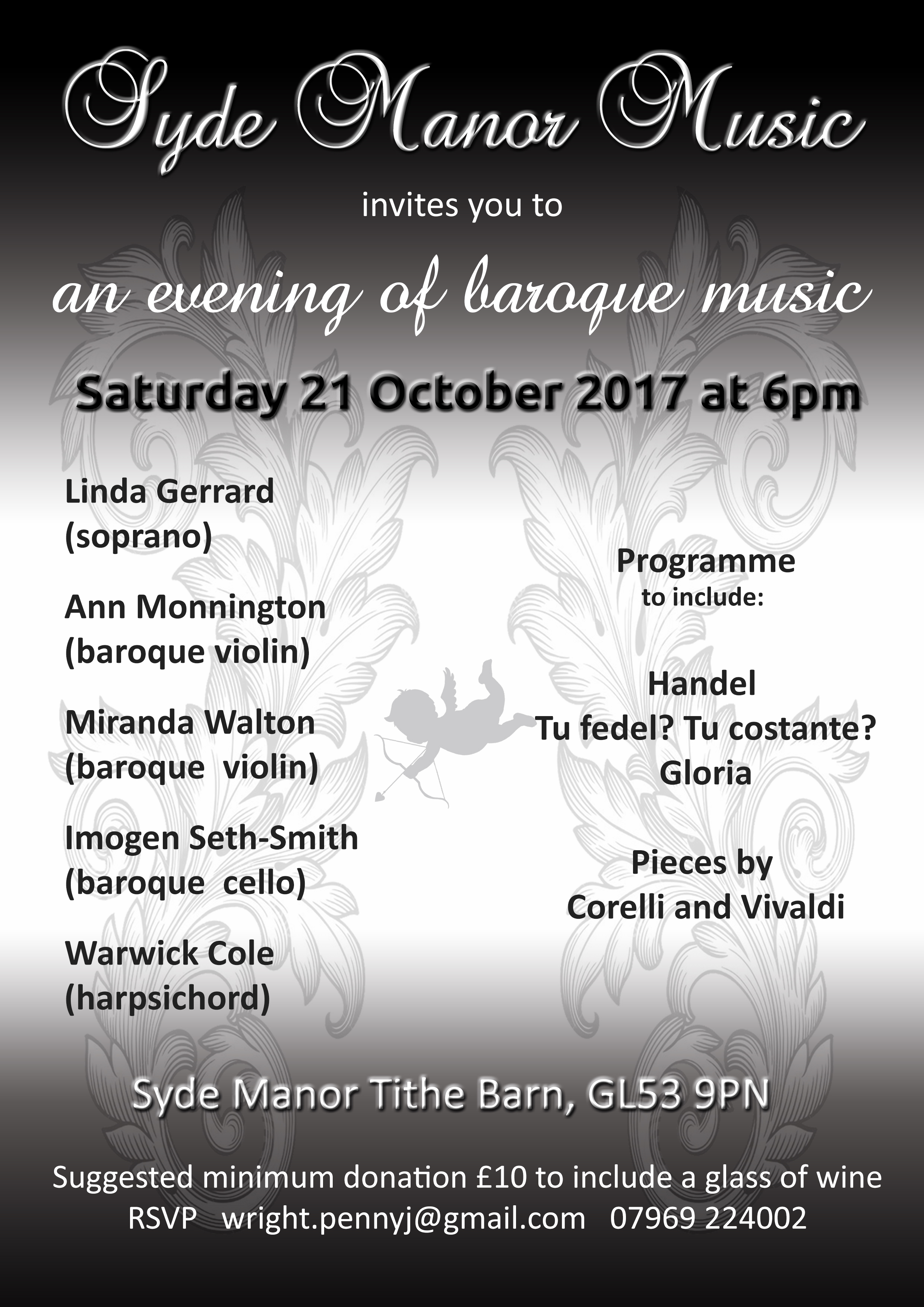 Syde Manor Music
invites you to an evening of baroque music
Saturday 21 October 2017 at 6pm
Please contact Penny Wright at:
wright.pennyj@gmail.com or 07969 224002
Syde Manor Tythe Barn, GL53 9PN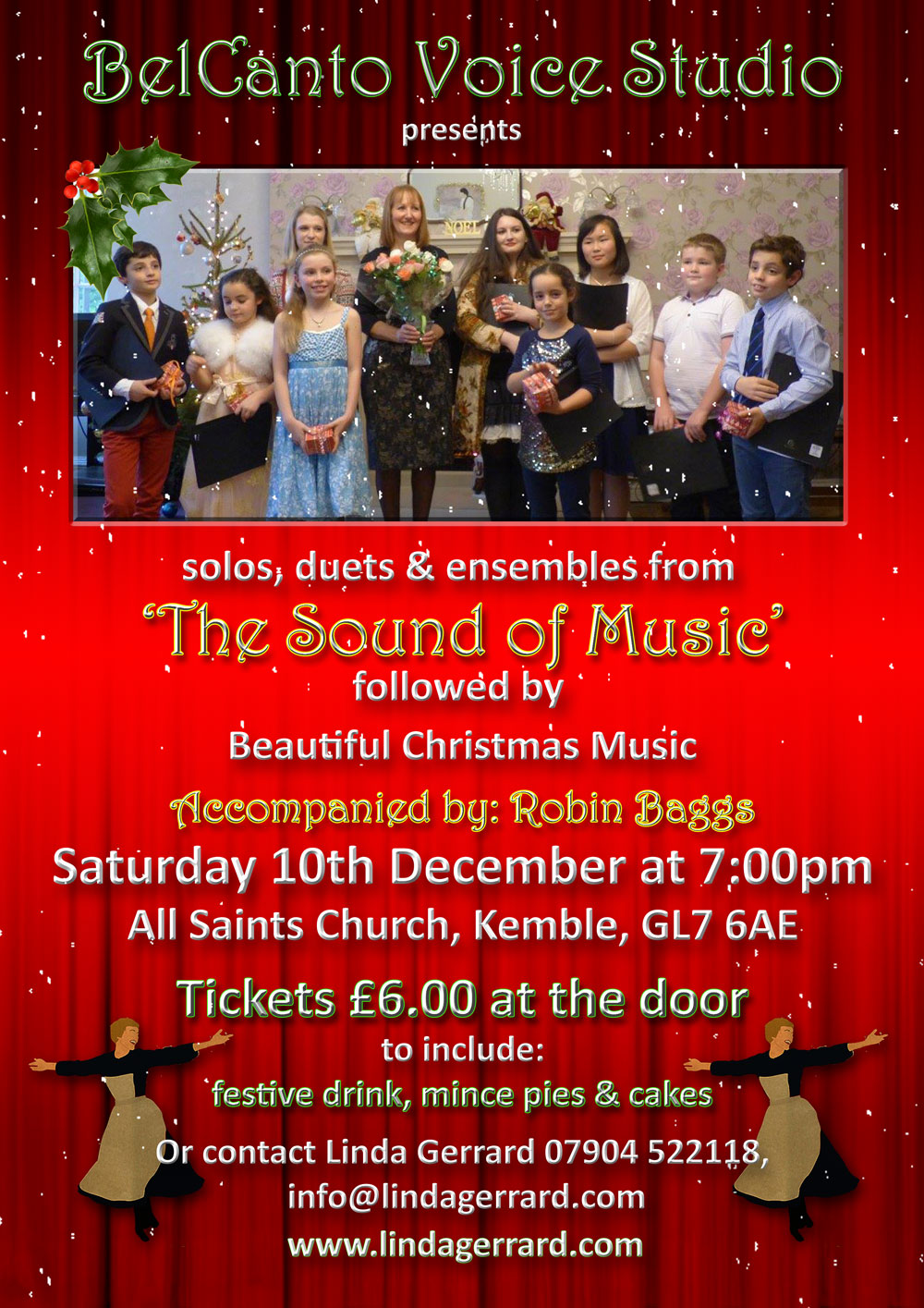 The Sound of Music
Followed by Beautiful Christmas Music
Accompanied by: Robin Baggs
Saturday 10th December at 7.00pm
All Saints Church, Kemble, GL7 6AE
Tickets £6.00 at the door. To include a festive drink, mince pie and cakes. Tel: 07904 522118.
BelCanto Voice Studio
presents
Summer Showcase Concert
to include Arias, Songs, Musical Theatre Numbers and some instrumental interludes
SATURDAY 20 JUNE AT 7PM
St. Peter's Church, STRATTON, Cirencester
Tickets £8 (concessions £6) available on the door or from Linda Gerrard
Tel. 01285 653394
Linda Gerrard's Stratton-based Voice Studio presents…
Student Christmas Concert
to include
Lovely Festive Solos, Choral Items and Carols for Choir and Audience.
The Ashcroft Church, 21 Ashcroft Road, Cirencester GL7 1RA
Saturday 6 December at 7pm
Tickets £8 (concessions £6) available from the Corinium Museum, Cirencester, GL7 2BX